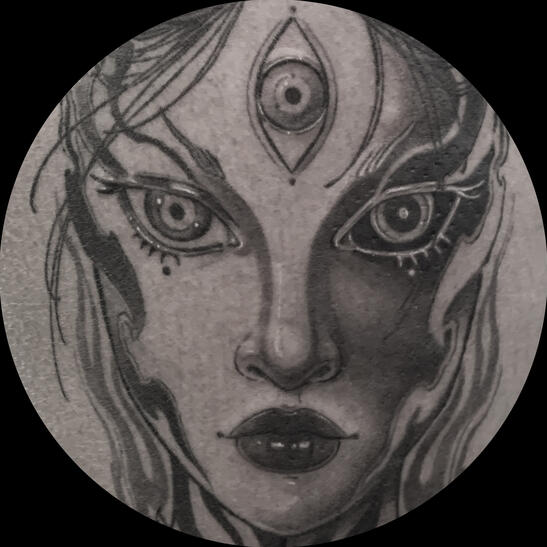 hellotako tattoo
---
Machine + handpoke // blackwork + colour

-BOOKS CLOSED-

Sign up below to be notified when books reopen:
>> SUBSCRIBE <<

FYI: should you have any enquiries regarding accessibility, please do not hesitate to reach out

Update: stricter measures will be in place due to covid-19
BEFORE EMAILING ME:
Thank you for showing an interest in my work. In order to answer your query on a price quote or to book in a tattoo, I'll first require the following information.
1. A description of the idea
2. Black & grey OR Colour?
3. Size (in cm), including height and width
4. Placement
5. Budget (if any)
6. Two of your preferred dates (if ready to book in)
Having all this information on hand will ensure a smooth communication process for both you and me. Please take the time to look at my FAQs section as well.
---
FREQUENTLY ASKED QUESTIONS:
"What modes of payment do you accept?"
I accept cash or PayNow/PayLah only.
"What if i'm unsure of what to get?"
I suggest you take all the time you need think about what you want to get. There's no rush to get tattooed, and I'll feel more comfortable knowing that you have come to me with an idea you are passionate about.
"I saw this design from another tattoo artist. Please duplicate it and
tattoo it on me!"
It is against my policy to replicate someone else's design. The most I can do for you is something inspired by the idea in my own style. Otherwise, I will not entertain such requests.
"HOW DO I BOOK IN?"
"HOW MUCH IS YOUR DEPOSIT?"
In order to secure a confirmed appointment within the booking period, you will need to transfer me a $100 non-refundable deposit by PayNow. This deposit will be deducted from the final fee at the end of your tattoo session.

Appointments are NOT held for you/confirmed until your deposit is paid.
"HOW FAR AHEAD DO YOU ACCEPT BOOKINGS?"
When my books are open, I accept appointments about 2 months in advance.

If you are coming in from overseas, just drop me an email and we can discuss the possibility of working together.
"WHAT ARE YOUR WORKING DAYS?"
I usually work from my private studio Mondays to Saturdays, except Wednesdays. Do note that my additional off days are to my discretion.
"SOMETHING'S HAPPENED AND I CAN'T MAKE MY APPOINTMENT. CAN I GET MY DEPOSIT BACK?"
As stated, deposits are non-refundable. It covers the time I take to draw up your design and to prevent no-shows. If you are unable to make your scheduled appointment, please send me an email at least 5 days in advance and I can reschedule you to a new date. In the event that you reschedule too many times or do not give sufficient notice, your deposit will be forfeited. If you are more than 15 minutes late without giving any prior notice, you will also have your deposit forfeited.
"WHERE IS YOUR STUDIO LOCATED?"
I work in a private studio in the CBD. The exact address will only be provided once your appointment has been confirmed.

Should you have any concerns about accessibility, I can address your queries over email.
"can i drop by your studio for a consult?"
Consultations can be arranged. Please send me an email and I will be in touch with you.

In general, larger projects and cover ups will necessitate a consultation session before we proceed.
"when will i see my design?"
Your design will be shown to you on the day of your appointment.

I accept minor changes, but anything labour-intensive may accrue an additional redrawing fee.
"What if I don't like the design you drew?"
Just let me know. I wouldn't want you to feel pressured to get something that is not to your liking. Any changes can be made on the spot. However, should you choose to forego the day's appointment due to extensive changes, I reserve the right to request for a new deposit when you book in a new appointment. The previous deposit will be claimed as a drawing fee. As an independent artist, please understand that such last minute changes in schedule means I can't book in a new client in time and it affects my work.
"I am running late for my appointment! will i lose my spot?"
Just let me know if you are running late. However, it is important that you arrive to your appointment on time as I have other clients throughout the day.
"What do i need to do before my tattoo?"
It's best that you are well-fed and well-hydrated. Do not drink alcohol or take any kind of substances (recreational drugs or blood-thinning medication such as ibuprofen) the day before your appointment as it could affect the outcome of your tattoo or the experience of getting tattooed. If you turn up to your appointment intoxicated, I have the right to decline tattooing you.
"Can i bring my friends along?"
As I work out of a small, private space, I currently limit who can enter the studio, particularly during our current COVID-19 restrictions. I ask that you come alone. I reserve the right to decline entry to any other persons.
"How do i take care of my tattoo?"
I will brief you on aftercare procedures.
"Do you do touch ups?"
Yes, touch ups are free within one year of getting the tattoo. After that, you will only be charged a minimal set-up cost.
---
READY TO BOOK IN?
Finished with the FAQs section?

Please send all tattoo-related queries to [email protected].

I look forward to hearing from you.

Do note:
By booking in with a deposit, you acknowledge that you have communicated your tattoo design idea to the artist to your satisfaction and have reviewed the artist's prior works to decide that the artist can implement your idea to your satisfaction. Please understand that creating a tattoo design based on a client's concept is subjective, and that variations may exist between the concept and the finished design. If the finished design is not to your liking, minor changes will be made at the artist's discretion. However, you understand that substantial changes to the design or the request of an entirely new concept will require a new deposit, and the original deposit will be forfeited as payment for the artist's drawing time.